California is the only border state that has not announced a deployment of its National Guard to the U.S.-Mexico border.
Interested in
Immigration?
Add Immigration as an interest to stay up to date on the latest Immigration news, video, and analysis from ABC News.
Immigration
Add Interest
Texas, New Mexico and Arizona have announced a combined 1,588 Guardsmen to support President Donald Trump's new border security mission. Nearly 700 of those troops have already deployed to the border, with the remainder expected to arrive later this month.
Arizona deploys 338 National Guardsmen to Trump's border mission
Texas Governor pledges 1,000 National Guard troops to U.S.-Mexico border
California Gov. Jerry Brown is the lone Democrat governing a U.S.-Mexico border state. His office has routinely been at odds with the Trump administration, particularly on immigration laws.
In March, the Trump administration sued California over its sanctuary city laws that the state says protect undocumented immigrants. Brown responded forcefully, saying the administration was making up "lies."
Most recently, Trump attacked Brown on Twitter for his pardon of five men facing deportation.
Governor Jerry "Moonbeam" Brown pardoned 5 criminal illegal aliens whose crimes include (1) Kidnapping and Robbery (2) Badly beating wife and threatening a crime with intent to terrorize (3) Dealing drugs. Is this really what the great people of California want? @FoxNews

— Donald J. Trump (@realDonaldTrump) March 31, 2018
A spokesperson for the California National Guard told ABC News on Tuesday that Brown is still considering the president's request.
Former California Gov. Arnold Schwarzenegger took over two weeks to decide on similar requests to send the National Guard to the border in 2006 and 2010.
There are already around 55 California Guardsmen providing support on the state's southern border.
"These personnel perform a variety of missions, including surveillance support at the San Diego Harbor, horizontal engineering in an effort to repair roads, fences and culverts, and criminal analysis with state and federal law enforcement personnel in support of counter-narcotics and counter-narcoterrorism operations," the California National Guard said in an email.
During a radio interview with KTSA on Monday, Texas Gov. Greg Abbott said that, across all border states, "the goal is to have at least 4,000 deployed here in about a month or two," with Texas bringing its total troop deployment to "more than 1,000."
Texas will increase its number of Guardsmen by about 300 per week until they are "fully staffed up," he said. There are currently 250 Texas National Guardsmen on the border right now.
Arizona Gov. Doug Ducey was present to send off 225 Guardsmen from his state on Monday. An additional 113 troops will deploy on Tuesday.
Honored to be among some of Arizona's bravest as they prepare to work alongside @DHSgov in securing our southern border and keeping our communities safe. @AZNationalGuard pic.twitter.com/371CcMhFkb

— Doug Ducey (@dougducey) April 9, 2018
New Mexico Gov. Susana Martinez's office said 80 Guardsmen would deploy later this week, according to The Associated Press -- the first of 250 expected to serve on the border.
Last Friday, Defense Secretary Jim Mattis signed a memo that authorized the federal government to pay for the potential deployment of up to 4,000 National Guard troops for Trump's border mission through September.
"The National Guard's efforts will include aviation, engineer, surveillance, communications, vehicle maintenance and logistics support," Chief Pentagon spokesperson Dana White said in a statement last week. "These National Guard members will act in support of Border Patrol agents who are performing law enforcement duties."
The Department of Defense has established a Border Security Support Cell led by Kenneth Rapuano, assistant secretary of defense for homeland defense and global security. The 24/7 cell, comprised of Department of Defense officials, is designed to coordinate the department's efforts with the Department of Homeland Security, White said.
Last week, Customs and Border Patrol (CBP) released data showing the number of border apprehensions in March had risen 203 percent compared to March 2017 and risen 37 percent from February 2018.
However, CBP data shows 2017 produced the lowest recorded number of illegal border crossings apprehensions since 1972. A year-to-date comparison between Fiscal Year 2017 and Fiscal Year 2018 showed apprehensions are down nearly 13 percent.
ABC News' Geneva Sands, Justin Fishel and Luis Martinez contributed to this report.
Kaynak:Abcnews
Bu Haberler de İlginizi Çekebilir
TASC'tan Ücretsiz Sağlık Desteği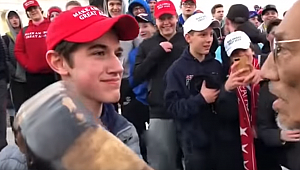 Washington'da Yerlilere Irkçı Saldırı